Description
Pumpkin Carving Kit – Professional Heavy Duty Stainless Steel Tools Set for Halloween (4 Pieces with Storage Carrying Case)
---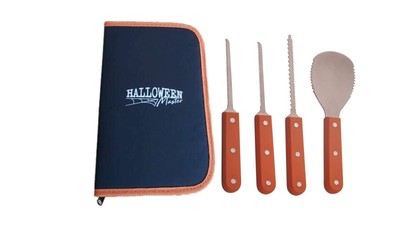 Product Details
Package Dimensions: 9.8 x 6.5 x 1.4 inches
Item Weight: 12 ounces
Shipping Weight: 12 ounces
Manufacturer: GSM Brands
Make sure this fits. by entering your model number.
ALL OF THE TOOLS YOU REALLY NEED, NONE OF THE TOOLS YOU DON'T NEED – The Halloween Master Pumpkin Carving Kit includes STURDY and SHARP STAINLESS STEEL tools – 1 pumpkin scoop/scraper tool, 1 fine tooth saw, 1 medium tooth saw, and 1 large tooth saw.
STURDY, SAFE, AND DURABLE CONSTRUCTION SO YOU CAN FOCUS ON CREATING COOL PUMPKIN CHARACTERS – These are not your run of the mill cheap plastic carving tools; we have designed them for exceptional durability and use from year to year. The stainless steel parts run through the entire body of the tools so you won't have sharp knife parts coming out of a shallow pocket like competitor's sets.
INCLUDES STORAGE CASE – Because the Halloween Master Pumpkin Carving Kit is durable and made for a life time of use, the handy zippered storage case will patiently hold the tools until it's time to carve your next special and uniquely designed pumpkin.
SAFETY FIRST – The Halloween Master tools are sharp (unlike some flimsy plastic competitor's tools), so adult supervision is required. Not recommended for children, ghosts, or goblins under age 9.
MONEY BACK GUARANTEE – We are confident that you will have a great experience with the Halloween Master Pumpkin Carving Kit. If the kit fails to live up to your expectations, simply return it for a full refund.
The Halloween Master 4 Piece Pumpkin Carving Kit Includes all the tools youactually need, and none of the ones that you're like, "what the heck is thisfor?"SIMPLE DESIGN DONE WELL: There's nothing worse than starting a pumpkincarving contest with your kids and, "pop!", the flimsy knife portion of thetool falls out of the handle. That's why we've designed our tools to beespecially sturdy and durable because we're passionate about CARVING PUMPKINS!The Halloween Master Pumpkin Carving Kit includes these STURDY and SHARPSTAINLESS STEEL tools :1 pumpkin scoop/scraper tool1 fine tooth saw1 mediumtooth saw1 large tooth saw.  1 zippered premium nylon storage caseHigh QualityConstructionMade of stainless steel construction – reusable year afteryear.The stainless steel knives and scraper are each comprised of one longsolid stainless steel part that's held in by three metal pegs drilled througha hard orange plastic handle, so they won't fall out like flimsy competitor'stools whose pieces are merely stuck into a shallow hole with little to knowsecurity.  Safety FirstPumpkin carrving is a lot less fun when someone getshurt.  These tools are SHARP!  Adult supervision required.  Not recommendedfor children, ghosts, or goblins under age 9.  Money Back GuaranteeTheHalloween Master Pumpkin Carving Kit comes with our money back guarantee. Ifthe kit fails to live up to your expectations, simply return it for a fullrefund.
SHIPPING INFORMATION
Our stock all ships from our US-based warehouses.
Shipped via USPS or UPS or FedEx (depending on location and package weight)
eBay Global Shipping Program – We are a part of eBay Global Shipping Program. This means that eBay will be responsible for shipping and import charges and times. We don't control the shipping times and import charges, which are based on your location in the world. You can find all the info in the eBay listing!
RETURN & REFUND POLICY
We offer a 30 day return/exchange policy for our products.
You can choose refund or exchange if you are dissatisfied for any reason with your product.
Only factory defects are accepted as a reason for a return. In the case of factory defects, we will replace the product for you.
When returning an item, it must be in all of the original packaging and include all of the original accessories or items that came with it. The item and package should be in original and perfect condition.
You will be required to cover shipping on the return of defective items.
All returns MUST be done within 30 days of date of purchase. Please note that we cannot give refunds or replacements after the 30 day limit has expired.
When sending in a return, please note that it can take up to 7 business days for the return to be processed. We do our best to process as quickly as possible.
Buyers outside the U.S.A please note – ALL of our electrical appliances sold in our store are 110-120V.
Return policy for buyers outside the U.S.A – We offer to return the items within 30 days. The BUYER will ship the item at his own cost.
We are extremely fair, and in the rare event of something out of the ordinary happening with our products or shipping, we will gladly work with you to find a solution.